The FX Sensor
FX vs. DX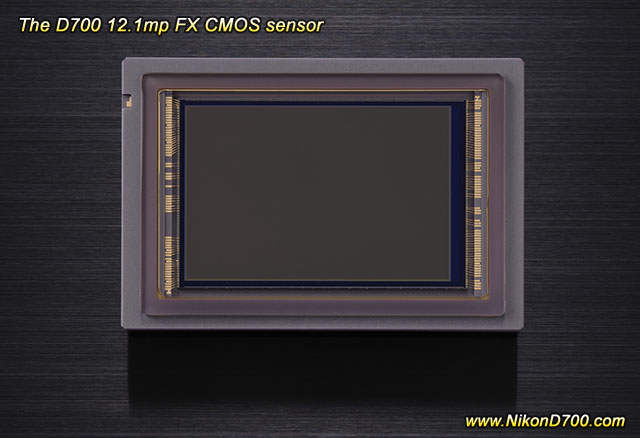 So we've heard the terms "FX" and "DX" a lot, but what does this mean exactly? In simple terms, "FX" is Nikon's name for a sensor format that's roughly equivalent in area to 35mm film ("full frame"). "DX" is Nikon's name for a reduced-size sensor, also often called "APS-C".
Sensor fabrication
All current sensors are fabricated using the same types of process as other computer chips. Multiple sensors are made on a single silicon "wafer" in high-tech and hugely expensive — we're talking billions to construct — fabrication facilities.
Now, as FX sensors are physically larger than their DX counterparts, you can fit less of them on a wafer. On a standard 8-inch silicon wafer you might fit approximately 20 FX chips, compared to around 200 for DX. As the cost of a production run is in terms of cost per wafer, you can summise that FX chips are 10 times more expensive than DX.
However… of course, it's not that simple. Chip fabrication isn't perfect - a single spec of dust inside the facility that gets in the way of sensor production, and that's one sensor from a wafer that simply ends up not working. This might not be a huge problem for DX, where you have another 199 - but for FX, you only have 19. Now imagine that twenty specs of dust get in, or that there are some scratches on the wafer before or after fabrication. That's a possible 180 vs… a possible 0. FX is therefore many times more expensive, and it helps to explain why FX sensor production hasn't hit the mainstream until now.
So, when everyone was shooting film, we all had "FX" sized sensors. However, when digital came along it was hugely difficult, and hence expensive, to produce sensors of that size and SLR manufacturers therefore chose to move forward with "DX" sizes. These have the advantage that they're easier to produce (see box, right) and hence cheaper.
However, DX does have several disadvantages. As the sensor area is lower, so are it's light-gathering capabilities - meaning lower resolution and/or more image noise. Also, as DX covers a smaller portion of the image projected by a lens, a "crop factor" of 1.5x is introduced. This means that a wide 24mm lens on FX will become something more akin to a 36mm lens when used with a DX sensor. This has been somewhat countered by the introduction of DX-only lenses that project a smaller image circle, such as the standard 18-55mm kit lens supplied with the D60.
On final "issue" with DX sensors is that, due to the reduced coverage, apparent depth-of-field is affected. It's much harder to get a low DOF to isolate subjects with DX. However, the inverse is also true - if you want large DOF, perhaps for landscapes, it's easier with DX (until the diffraction limit of your lens, at least).
So, how about a visual comparison between DX and FX? See the comparative image below - you can see just how much larger the FX sensor is.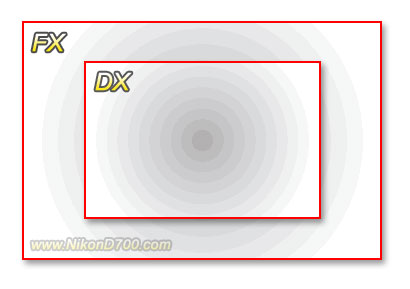 FX (D700)
DX (D300)
Size
36.0 x 23.9mm
23.6 x 15.8mm
Pixels
12.87 million
(12.1 million effective)
13.1 million
(12.3 million effective)
Image Size
4,256 x 2,832
4,288 x 2,848
Pixel density
1.4 million pixels / cm2
3.3 million pixels / cm2
Pixel pitch
8.45µm
5.5µm
FX Advantages & Disadvantages
The FX sensor format has many advantages, and some disadvantages. Which is best for you may be dictated by your shooting style an usual subject matter.
Advantages
High Sensitivity

As each physical pixel on an FX sensor is much larger than a pixel on an equivalent-megapixel DX sensor, the FX version has more area from which to capture light. This translates into a higher sensitivity, or, to put it another way — lower noise. Where the D700's sensor is concerned, this means it outputs amazing high-ISO images far beyond those of DX and indeed other 35mm full-frame chips.
Additionally, the larger light-gathering capability of an FX pixel also helps to improve dynamic range and allow for finer tonal graduations.
No crop factor

As described above, the DX 1.5x "crop factor" means that what used to be wide angle is no longer quite so wide - eg. your 24mm becomes equivalent to a 36mm. With FX, this is no longer a problem - wides become properly wide again. Of course, this is somewhat mitigated by newer DX-only lenses such as Nikon's own 12-24mm, but for many this is a great return to what we learnt photography with. If you mainly shoot telephoto - wildlife, perhaps - then the DX sensor may actually be a better choice for you, as it's 1.5x crop factor brings you that much closer to your subject.
Large, bright viewfinder

The FX sensor size means that a larger mirror is used, which in turn means that a larger viewfinder prism is used. This has the result that your view through the eyepeice is large, bright and detailed - which can be quite a revelation if you're used to DX tunnel-vision!
Disadvantages
Larger, more complex lenses

As the image circle that is projected by DX lenses is smaller than that project by FX lenses, the DX versions can be made somewhat smaller and lighter. This isn't always the case - the Nikkor AF-S 17-55mm f/2.8 DX lens is quite a beast - but is a valid consideration if you want a small, light package to carry.
Image Uniformity

The FX sensor really does stress the lens being used. If you use an FX lens on a DX body, you're just using the "sweet spot" in the centre of the lens. On FX, you're also using the edges of the lens, which a never as sharp as the centre. This has been a problem recently, as people who snapped up the D3 found some corner issues with the pro Nikkor AF-S 70-200mm f/2.8 lens.
The result of this is that the CMOS FX sensor used in the D700, and the D3 before it, became an instant classic. It blew the doors open for low-light and high-ISO photography that simply wasn't possible with a DSLR before. In the past, Nikon had always lagged behind their main competitor Canon in the high-ISO stakes. With the D3 that changed overnight.
Integrated Dust Reduction System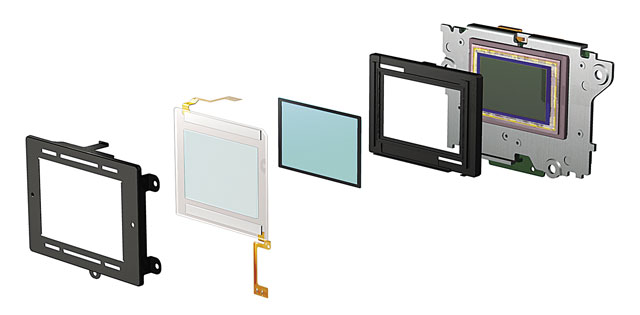 Dust issues have plagued digital SLRs since their introduction. Although not always visible, all sensors have some level of dust on their surface. Most of the contamination is caused by dust particles as small as just one micrometre (0.001mm), which stick to the sensor through an electrical charge. The sensor is negatively charged and the particles carry a positive charge; hence they attract each other. This is the same mechanism by which you see dust collect on a vertical television screen.
Dust can more readily be seen at small apertures. You're unlikely to notice anything at f/2.8, but stop down to f/22 or further and you're sure to see many dark dots and splodges on your images, all caused by dust sitting on the sensor of your DSLR. Traditionally, this dust had to be removed by blasting it with air or by "wet cleaning" with a suitable liquid.
In an attempt to combat this, Nikon's new Integrated Dust Reduction System employs quad-frequency ultrasonic sensor cleaning every time the camera is turned on or off. The competition have had similar systems for a while; Olympus were first with their SSWF on the E-1 in 2003. Sony, Canon and Pentax introduced their own variants in 2006, and Nikon followed in 2007 with the dust reduction system in the D300.
Of these, none have proven completely effective - they won't remove all of the dust on a sensor. From anecdotal evidence, the Olympus system is widely considered to be the best, perhaps followed by Nikon's.
However, there is one downside to the sensor cleaning mechanism - according to Nikon themselves, it's the reason for the reduction in viewfinder size from 100% on the D3, to a quoted 95% on the D700. (It was originally assumed that the D700's built-in flash was the reason for the coverage reduction, but Nikon say this is not the case).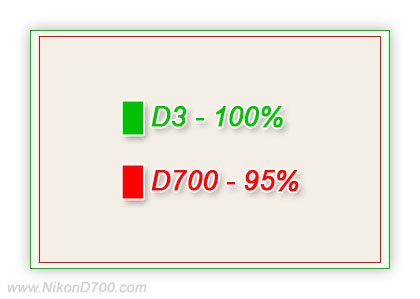 Note that Nikon say this is 95% - in reality this appears to be a measure in linear terms of the sides of the finder, so the actual coverage is 90% of the frame (0.95 * 0.95 = 0.9025). Only you can know if this is going to be a deal breaker for you - probably not, I'd guess - but it's surely the reason that the D3 has no anti-dust shaker.