Nikon D700 vs. Canon 5D Mark II
vs.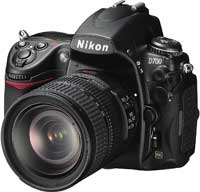 Wednesday, 17th September 2008. Finally, three years after the original 5D, Canon announce the replacement - the EOS 5D Mark II. Headline features are a 21.1 megapixel sensor and 1080p HD video recording.
Other than that, the 5D2 (body-wise) is not really much of an upgrade over the 5D (see the 5D comparison earlier in this review).
Features
Nikon D700
Canon EOS 5D Mark II
Comments
Resolution
12.1 mp
4256 x 2832
21.1 mp
5616 x 3744
The 5D Mark II has received quite a resolution boost over it's predecessor. It now has a 30% linear resolution advantage over the D700.
ISO
200 - 6400 in 1, 1/2 or 1/3 EV steps
100 - 6400 in 1 or 1/3 EV steps
The 5D2 has native ISO 100. The D700 allows 1/2-stop increments.
ISO Boost
100 - 25600
50 - 25600
The 5Dmk2 has received a D700-matching ISO 25,600 rating. When we get to see some samples, we'll see if this is a stop too far or not.
Weather Sealing
Yes
Yes
Weather sealing on the mk2 is improved over the original.
Viewfinder
Pentaprism
95% coverage
0.72x magnification)
Pentaprism
98% coverage
0.71x magnification)
The 5D viewfinder coverage is better than the D700s.
Viewfinder blackout
74ms
Unknown, expect in the region of 145ms
When you take a shot with the 5Dmk2, you can't see through the finder for ~145ms. The D700 excels in this area.
Built-in flash
Yes
No
Incredibly useful not only for fill, but also as to control remote Speedlights in Commander mode.
Flash sync
1/320s
1/200s
The 5Dmk2 doesn't improve on the 5D here.
Sensor Cleaning
Yes
Yes
New for the 5Dmk2
Storage
CompactFlash Type I
CompactFlash Type I & II
Microdrives
Used a microdrive in the past 5 years? I didn't think so.
FPS
5 fps
8 fps max with battery pack
3.9 fps max
The 5D was never known as a speed demon; that was never it's raison d'etre. The 5Dmk2 adds just an extra 0.9fps.
DX Crop Mode
Yes
No
The 5D does not support Canon's EF-S lenses
Buffer
100 JPEG
17-23 RAW (depending on compression)
78 JPEG
13 RAW
The 5Dmk2 now supports UDMA cards (as does the D700). However, due to the large file sizes, the buffer is smaller than the D700s
14-bit image capture
Yes
Yes
The 5D only had 12-bit capture.
LCD
3.0″
920,000 dots
640×480
3.0″
920,000 dots
640×480
The D700's LCD is amazing - detailed, crisp and colourful. The 5Dmk2 now matches it.
Live view
Yes
Yes
Not a feature on any DSLR of the 5D's age.
Video Capture
No
Yes, 1080p HD at 30fps
The 5Dmk2 is the second DSLR in the world to support video capture (the first was the Nikon D90).
Exposure compensation
-5 to +5 EV
in 1/2 or 1/3 EV steps
-2 to +2 EV
in 1/3 EV or 1/2 EV steps
Only -2 to +2 for the Canon - not too good.
Weight
1024g (37.9oz)
810g (without battery)
In most cases, lighter is better - but the 5Dmk2 doesn't have the D700 build quality.
Build Quality
Excellent
Good
Price
Check Price
Check Price
I get a small kickback if you order via these links, and this helps me to keep this site running. Thanks!