Menus
Menu Design
The menu system on the D700 is essentially identical to that on all modern Nikon DSLRs. If you've used a D300 or D3, or even for that matter a D200, D80, D60 or D40(x), they will be immediately familar - though somewhat more complex (see box).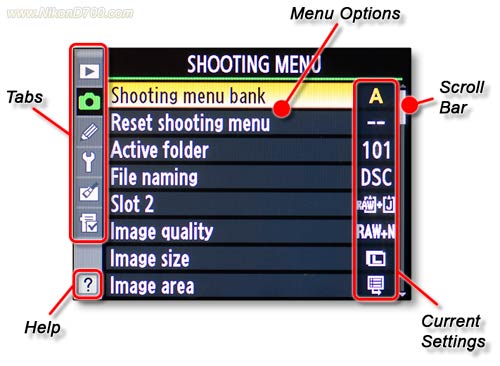 Tabs - Selects the menu to display: Playback, Shooting, Custom Settings, Setup, Retouch, My Menus.
Help - If lit, press the "?" button to view help for the currently selected menu item.


Menu Options - Show the options in the current menu.
Scroll Bar - Shows position in current menu; useful if the menu has more items than will fit on a single screen.
Current Settings - This column shows the current setting for a menu option, by way of an icon.
Navigation


Menus are mainly navigated using the "Multi-selector" - the four-way circular control on the back of the camera with a centre button. However, it's also possible to use the command and sub-command dials (front and rear control wheels); for example the rear control scrolls up and down, the front control moves from left-to-right (from tab, to menu item, etc). This is typical Nikon attention to detail, and it's up to you which method you prefer.
When the menu is first brought up, by a single press of the "Menu" button, the last selected item will already be hightlighted (even if the camera has been switched off in between). Because of this it's easy to remember where you are in the menus and can quickly switch between related items.
To switch to another tab, a quick press of the multi-selector on the left will highlight the current tab; use up and down to select the required tab.
When you've found the correct tab, a right (or centre) press will bring you back into the list of menu options. Up and down then select between menu options, and if there are more than can be displayed on the screen the menu will scroll. The scroll bar then shows you where in the menu you currently are.
To select a menu item, again a right-press or centre-press will take you to the options for that menu item (or, in the case of the Custom Settings menu, a sub-menu containing further menu items).
All pretty much straightforward, though with some caveats (see box).
Key Menu Items
This is not an exhaustive list of menu items - if you want that, other websites do it far better than I would, or you can download the D700 manual - but it should show you the major screens that comprise the D700's user interface.