Nikon D700 vs. Canon 5D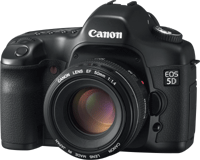 vs.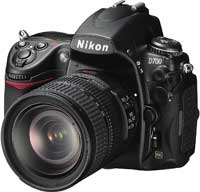 On the 22nd August 2005 - nearly three whole years ago - Canon announced what was then a quite shocking camera, in much the same way that the D700 is today. It was the first ever "affordable" full-frame 35mm DSLR, and at the time Canon claimed that it "defines a new D-SLR category". Bold words, and justifiably so - the EOS 5D was a revelation for many as it opened up the world of large sensors for non-professionals, although in the following years it's found it's way into many a professional's arsenal.
So, fast forward to late 2007 - over two years after Canon's 5D - and Nikon announce the D3, their first full-frame ("FX") DSLR. We all know about that; it turned out to be a winner not only for it's feature set and performance, but for it's amazing sensor. Now, a further six months down the line, that same sensor is finally available in a 5D-sized body. So of course, we want to compare the two cameras.
Why?
Let's get this question out of the way first.
Yes, the Canon 5D is nigh on three years old - that's pretty much 2 generations in DSLR terms. So why compare these two? Let me list the reasons:
Because, quite frankly, the 5D has set the bar for image quality over the past few years. Can Nikon meet or exceed the incredibly high standards set by Canon?
Both cameras are "full frame" - FX in Nikon-speak, with the 5D at 12.8mp compared to the D700 at 12.1mp. There are currently no other cameras on the market with these two qualities in the same body, so it's natural to want to compare them.
At the time of writing, both the 5D and the D700 are current models in the Canon and Nikon product ranges. There are no alternative FX 12-ish megapixel digital SLRs.
Yes, I know that Canon's replacement for the 5D is likely to be available quite shortly, but as of writing (August 2008) it's not even announced. There are no firm specifications, just unsubstantiated rumours. For that reason we'll ignore it. When it finally is announced and available, I'll try to get one in for another comparison…
Features
Nikon D700
Canon EOS 5D
Comments
Resolution
12.1 mp
4256 x 2832
12.8 mp
4368 x 2912
This is a practically insignifficant difference; it translates into a 2.6% linear resolution increase.
ISO
200 - 6400 in 1, 1/2 or 1/3 EV steps
100 - 1600 in 1/3 EV steps
Much has been written about the D3 & D700's high-ISO capabilities. Nothing else currently comes close.
ISO Boost
100 - 25600
50 - 3200
Weather Sealing
Yes
No
Viewfinder
Pentaprism
95% coverage
0.72x magnification)
Pentaprism
96% coverage
0.71x magnification)
No practical difference.
Viewfinder blackout
74ms
145ms
When you take a shot with the 5D, you can't see through the finder for 145ms. Again, the 5D is no speed demon. The D700 excels in this area.
Built-in flash
Yes
No
Incredibly useful not only for fill, but also as to control remote Speedlights in Commander mode.
Flash sync
1/320s
1/200s
Sensor Cleaning
Yes
No
Storage
CompactFlash Type I
CompactFlash Type I & II
Microdrives
Used a microdrive in the past 5 years? I didn't think so.
FPS
5 fps
8 fps max with battery pack
3 fps max
The 5D was never known as a speed demon; that was never it's raison d'etre.
DX Crop Mode
Yes
No
The 5D does not support Canon's EF-S lenses
Buffer
100 JPEG
17-23 RAW (depending on compression)
60 JPEG
17 RAW
The D700 is rather dependant on having a fast UDMA-capable CF card - without one, these figures will be lower.
14-bit image capture
Yes
No
No DSLRs (apart from the Fujifilm S3pro) supported 14-bit capture when the 5D was released.
LCD
3.0″
920,000 dots
640×480
2.5″
230,000 dots
320×240
The D700's LCD is amazing - detailed, crisp and colourful. The 5D's pales in comparison - and it wasn't even particularly good for 2005.
Live view
Yes
No
Not a feature on any DSLR of the 5D's age.
Exposure compensation
-5 to +5 EV
in 1/2 or 1/3 EV steps
-2 to +2 EV
in 1/3 EV or 1/2 EV steps
Only -2 to +2 for the Canon - not good.
Weight
1024g (37.9oz)
895g (31.6oz)
In most cases, lighter is better - but the 5D doesn't have the D700 build quality.
Build Quality
Excellent
Good
Price
Check Price
Check Price
I get a small kickback if you order via these links, and this helps me to keep this site running. Thanks!
Handling
PLEASE READ THIS FIRST:
I am a Nikon shooter.
I'm used to the way Nikon cameras handle.
This is just my opinion on the "Canon way"!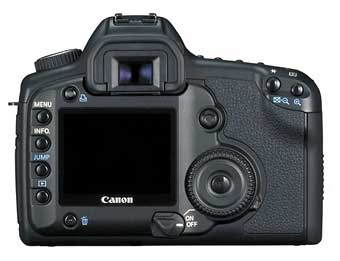 This is a very subjective point, and one I'm not going to comment on too much. I personally much prefer the Nikon way of doing things, some people prefer the Canon way. If you've not used either brand before, you'll probably end up liking whichever one you become familiar with first - that's the way these things usually work!
The best thing to do it to get yourself down to a local camera store, handle both, and see which feels better to you. However, having got that out of the way…
The Nikon D700 is streets ahead of the Canon EOS 5D ergonomically. Why? Let me list the ways…
Construction:

The Nikon is weather sealed and has an incredibly solid-feeling magnesium alloy body. The Canon's body is also made from magnesium alloy, but is not sealed and simply feels a little like a toy in comparison. Even the CF card door - not my favourite design on the D700, as they seem to have copied Canon here - feels better on the D700. The Canon's door isn't even sprung. Lens mounting is also a lot more positive on the Nikon.

Having said that, I very much doubt that most people will encounter any problems with the construction of either body. Even the cheapest plastic consumer DSLR is often more robust than it's user! This also contributes to the Canon's weight advantage; it clocks in at 895g (1.97 lb) with battery compared to the Nikon's 995g (2.19 lb).

Controls:

This one is probably more subjective than any other on the list. Quite frankly, I find the Canon's handling atrocious. At first the large iPod-like wheel on the back seems like a good idea; however, in use I find it's positioned far too low and is impossible to use comfortably while gripping the camera normally. Thumb-ache ahoy, even after short sessions. It's better with a battery grip attached, but the D700 and MB-D10 arrangement is simply better.

I really miss the rear control wheel (Nikon always has two - front and rear - Canon does not). You have to use the "iPod" wheel - more aching thumbs.

The 5D has a Direct Print button. Why? Has anyone ever used this? Canon should have replaced it with a dedicated MLU button.

Zooming in on an image during playback. Unfortunately, Nikon have taken a backwards step on the D700 and made it more Canon-like, where you have dedicated "zoom in" and "zoom out" buttons. The previous Nikon hold-and-rotate-the-rear-dial method was far better, as you never had to keep pressing a button multiple times to scroll in and out. (Compare this to using your mouse wheel to scroll this web page, or using your keyboard. Which is easier?). One saving grace though is that Nikon have kept their middle-press-to-zoom-to-100% functionality, so it's less of an issue than it could be.

I could go on (the location of the power switch, the position of the LCD backlight button, etc, etc) but I think the point is made!
Shutter Sound
I've recorded some mp3 files if you'd like to hear the difference between the 5D and D700 shutter mechanisms.
I think the D700 sounds more "solid" - though not as good as the D3's shutter - but I must also admit to liking the 5D more "whirry" shutter.
Image Quality - Studio
I used the following basic scene to test image quality at various ISOs in a studio type setting. WB was set to Tungsten on both cameras, Aperture Priority at f/13. Lenses used were the Canon 50/1.4 and the Nikon 50/1.8 - at f/13, both these lenses should easily out-resolve a 12mp FX sensor.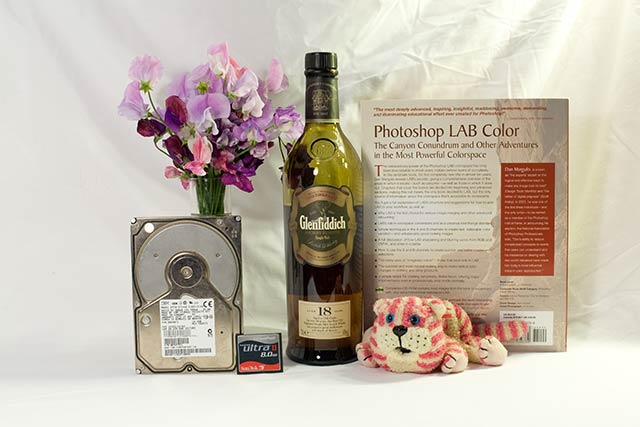 RAW Conversions
The following shots are all converted from RAW using Adobe Lightroom v2.0. They have WB set to Tungsten, and have +0.66 exposure compensation applied. All other settings were at their defaults.
| 100 | 200 | 400 | 800 | 1600 | 3200 | 6400 | 12800 | 25600 |
| --- | --- | --- | --- | --- | --- | --- | --- | --- |
| Canon EOS 5D | | | | | | - | - | - |
| Nikon D700 | | | | | | | | |
| 100 | 200 | 400 | 800 | 1600 | 3200 | 6400 | 12800 | 25600 |
| --- | --- | --- | --- | --- | --- | --- | --- | --- |
| Canon EOS 5D | | | | | | - | - | - |
| Nikon D700 | | | | | | | | |
Looking at these, I don't see much if any difference at ISOs 200 and 400. ISO 100 isn't a "true" setting on the D700 - it's Lo-1 - but it looks just fine here, even if DR has been compromised slightly. At ISO 800, I'd give a slight advantage to the D700, more so at 1600, and at 3200 the D700 is getting quite far ahead.
Overall, I'd give the D700 a 2/3 stop noise advantage in this test. 2/3rds of a stop may not sound like a great deal, but it's the difference between 1/100s and 1/160s, or 1/400s and 1/640s - definitely a worthwhile improvement.
Of course, the Canon can't compete at ISOs 6400 and above, as it simply won't shoot that high. That said, I'd only use the D700 at Hi-1.0 to Hi-2.0 if I had no other choice. I don't consider them particularly usable, especially Hi-2.0 (ISO 25,600 equivalent).
Remember that these images are pushed 2/3rd stop during RAW conversion (I consider both cameras to have metered somewhat low, probably due to the white background), so you can expect even better results in real life.
As for detail - well, you'll often hear Canon shooters claiming that the 5D resolves more detail than the D700 (and D3). I don't consider this to be true when shooting RAW. See the "Grant & Sons / Banffshire" text in the crops above, and I think you'll agree that they look pretty much identical in terms of detail resolved. The Canon image is just a little more contrasty, either due to the lens used (unlikely) or the default tone curve that LR uses.
Download Images
Not happy with the way I've processed the above, or want to take a look at the originals? Download them here:
5D JPEGs: 100 200 400 800 1600 3200
D700 JPEGs: 100 200 400 800 1600 3200 6400 12800 25600
Warning: Large files! The (12-bit) 5D RAWs are between 12-15Mb each, the (14-bit) D700 RAWs are 14-18Mb. All images remain my copyright, please attribute the source if you post them on any websites etc. Thanks!
5D RAWs: 100 200 400 800 1600 3200
D700 RAWs: 100 200 400 800 1600 3200 6400 12800 25600
Night Scene - RAW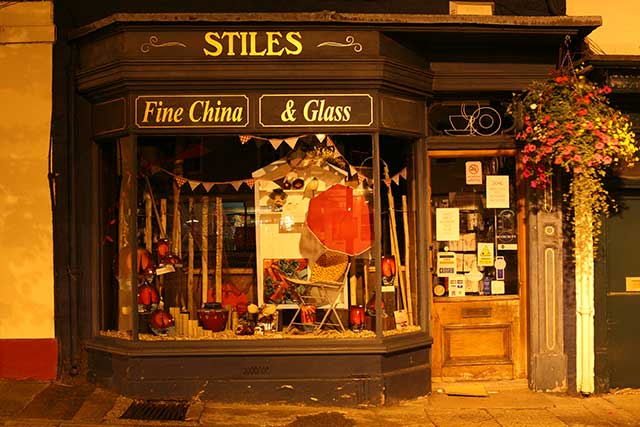 This is a shot of a local shop, taken by streetlight at 11pm. The full-size shot above shows how the scene was rendered out-of-camera (by both the D700 and the 5D). The crops below are after auto WB adjustment and export using Adobe Photoshop Lightroom 2.0. This is a bit of a torture test - high ISO, combined with a quite severe Tungsten WB tweak will show up any noise that lurks within, especially in the blue channel.
Note that light levels were extremely low, leading to shutter speeds below 30s at ISO 100, and there is therefore no ISO 100 comparison shown. All shots are using the Canon 50/1.4 and the Nikon 50/1.8 at f/8.
| ISO | 5D | D700 |
| --- | --- | --- |
| 200 | | |
| 400 | | |
| 800 | | |
| 1600 | | |
| 3200 | | |
| 6400 | - | |
| 12800 | - | |
| 25600 | - | |
In this test, I can see a sharpness advantage to the Canon. It's subtle, but definitely present - whether this is due to the 5D's weaker anti-aliasing filter or some other reason I can't be entirely sure.
Noise-wise, the D700 shows the same lead it did in the previous test. However, after ISO 3200 I'd consider the results poor, and totally unusable at ISO 12,800. ISO 25,600 is a joke - it looks worse than the worst Point & Shoot I've ever used (though with the current tendency for ever-higher ISOs in P&S cameras, I'm sure it won't be for long).
Night Scene - JPEG
I shot the previous test in RAW+JPEG mode on standard settings. Here are the JPEGs straight out-of-camera, with no processing.
| ISO | 5D | D700 |
| --- | --- | --- |
| 200 | | |
| 400 | | |
| 800 | | |
| 1600 | | |
| 3200 | | |
| 6400 | - | |
| 12800 | - | |
| 25600 | - | |
These were all on "standard" settings - there are simply far too many variations of baked-in JPEG settings for me to compare all of them. What's interesting here is that the D700's high-ISO noise advantage is even more clear, and the in-camera noise reduction (set to Normal) of the D700 does an excellent job of controlling unwanted blotchiness and smearing, even at ISO 25,600. Note that this is the same shot as in the RAW comparison above. Obviously, the RAW WB adjustment and perhaps Lightroom's less-than-optimal NR at default settings could be improved upon.
An excellent showing by the Nikon here.
Sharpness-wise, the Canon definitely leads. Some of this is due to the 5D's extra sharpening by default in JPEG mode - some might say too much - and this can be mitigated by adjusting the sharpening level on the Nikon. However, I can't help but feel that Nikon's JPEG engine doesn't result in the most detailed of outputs, which is one of the reasons why I'm generally a RAW shooter.
I feel that the Nikon has managed to handle the WB here slightly better than the Canon.
More to come! I've been out shooting at night, I'll be posting the results in the next day or so… please bookmark this page and check back later.