Body & Controls
Controls

D700 Controls, back view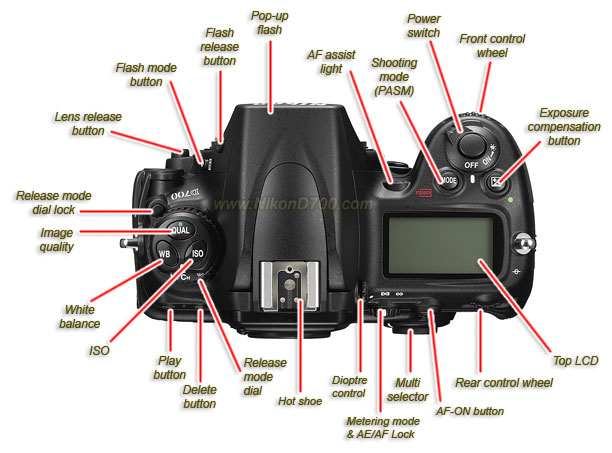 D700 Controls, top view

D700 Controls, front view

This section is still under construction.

Please check back later for updates!
Ever since the D70, Nikon have been slowly but surely breaking their exposure bracketing function. Why do I say this? Take a look at the controls here:
Notice what's missing on the D700? That's right — there's no "BKT" button.
The D70 allowed you to bracket in increments of several stops (eg -3.0, 0, 3.0). This was great for HDR images, where you want to capture detail in the shadows and highlights. Nikon broke this with the D200, where you can only bracket in 1-stop increments - so you have to take 7 shots to get the ones you need, wasting 4 of them (ie -3.0, -2.0, -1.0, 0, 1.0, 2.0, 3.0).
With the D700 the bracketing button is gone completely. This means you either need to assign the FUNC button (which everyone already uses for something else), or dig through the menus. In our opinion, this is a
bad move on Nikon's part.