Accessories
As with any new digital SLR, the D700 is compatible with a wide range of accessories. We'll detail a few here.
The MB-D10 Multi-Power Battery Grip


The MB-D10 is the same grip as used on the D300, so people upgrading from that model won't have to buy a new version. With the grip, you can use 8 AA batteries, a second EN-EL3e battery (the same as is used internally by the camera itself), and even the high-capacity EN-EL4/EN-EL4a as used by the D3.
That's not all; if you use either AAs or the EN-EL3, the top frame rate of the D700 is boosted to 8fps - the same as the previously top-of-the-range D2x, D2h and D2hs.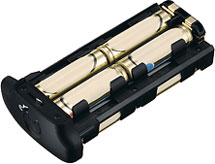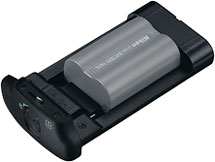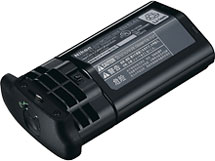 The MB-D10 is fully sealed against dust and moisture too, to the same level as the D700 itself.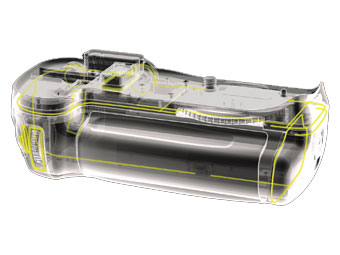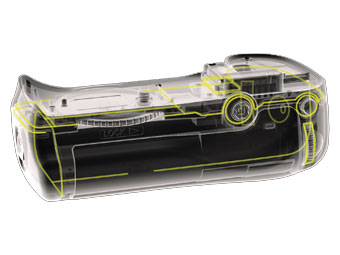 Finally, here's the D700 with the grip attached: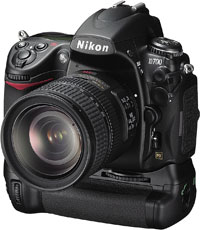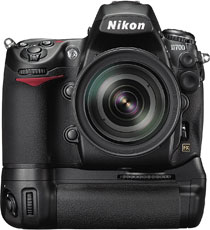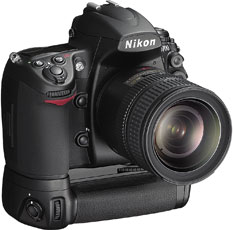 WT-4 / WT-4a Wireless Transmitter
Want to go wireless with your D700? Then Nikon have the answer in the form of the WT-4 (or WT-4a/b/c/d/e, depending on your region - the only difference is in the number of channels supported). This enables you to connect your camera directly to your wireless network, uploading images as you shoot - all the advantages of shooting tethered, but without the cable.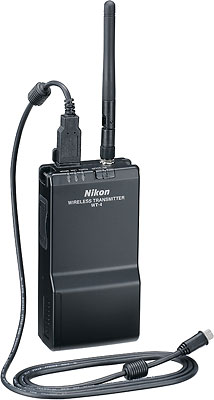 The transmitter itself is attached to the 10-pin socket via a cable, and is designed to be clipped to your belt. We understand that this means the transmitter isn't limited to use with a single body style (ie it will work just as well with the D700 as it will the D3 and D300, and can also be used regardless of if you have the MB-D10 attached). However, we can't help but think this is perhaps a backwards step from Nikon's Wi-Fi transmitters of old, that used to attach directly to the camera body with no trailing cables.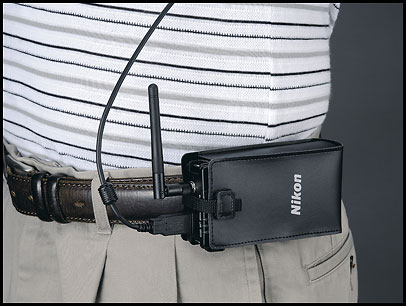 That aside, the WT-4 is packed with functionality:
Remote camera control (when used with optional Camera Control 2 software)
FTP image transfer
Connectivity via Wi-Fi (802.11a/b/g) or wired LAN (100Mbs, not gigabit unfortunately)
Supports ad-hoc and infrastructure modes
Thumbnail Select mode: Thumbnail images can be displayed on a connected computer, and selected images can be downloaded and saved.
Image Transfer mode: Images stored in a memory card and those just taken can be transferred and saved on a computer or FTP server.