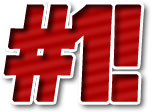 At the launch of the Nikon D3x DSLR, Nikon's professional business manager Chris Hoare said that the company had finally become the number one supplier of digital SLRs, overtaking Canon.
In October 2008, it reached it's target of becoming the number one DSLR manufacturer by unit volume in the key markets of the UK, Europe, Japan and the USA - a staggering 333% growth since 2004.
In the Pro space, Nikon's UK market share is currently running at 63%.
[ source ]