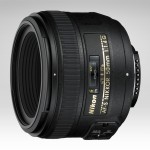 The (long overdue) new AF-S Nikkor 50mm f/1.4G has now been received by a select few, and all that have seen it are seemingly impressed. Bjørn Rørslett gives the lens 5/5 on both FX and DX cameras:
The barrel distortion, typical for this class of lens, is kept under good control. Field flatness also is better than shown by most fast lenses. Image quality is quite good in fact at f/1.4 although some blue fringing can occur at high-contrast transitions, increases to f/2.8 accompanied by a rise in contrast and reduction of fringing, and really gets into its stride in the range f/4 to f/9 or so.
…
The aperture opening is nicely rounded and the out-of-focus rendition (bokeh) is softer and less harsh than seen with the older 50/1.4 AFD model.