A user on a Chinese forum has posted what seem to be images leaked from a company printing marketing material for a new Nikon DSLR - the D700.  The validity of this information remains to be proven, but if it's a fake - it's a very convincing one, albeit with some strange-sounding wording in places.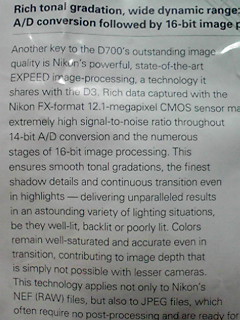 Rich tonal gradation, wide dynamic range A/D conversion followed by 16-bit image p[rocessing].
Another key to the D700's outstanding image quality is Nikon's powerful, state-of-the-art EXPEED image-processing, a technology it shares with the D3.  Rich data captured with the Nikon FX-format 12.1-megapixel CMOS sensor ma[kes?] extremely high signal-to-noise ratio throughout 14-bit A/D conversion and the numerous stages of 16-bit image processing.  This ensures smooth tonal gradations, the finest shadow details and continuous transition even in highlights - delivering unparalleled results in an astounding variety of lighting situations, be they well-lit, backlit or poorly lit.  Colors remain well-saturated and accurate even in transition, contributing to image depth that is simply not possible with lesser cameras.  This technology applies not only to Nikon's NEF (RAW) files, but also to JPEG files, which often require no post-processing and are ready for…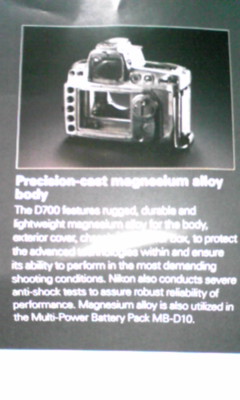 Precision-cast magnesium alloy body
The D700 features rugged, durable and lightweight magnesium allow for the body, exterior cover, [unreadable], to protect the advanced technologies within and ensure its ability to perform in the most demanding shooting conditions.  Nikon also conducts severe anti-shock tests to assure robust reliability of performance.  Magnesium alloy is also utilized in the Multi-Power Battery Pack MB-D10.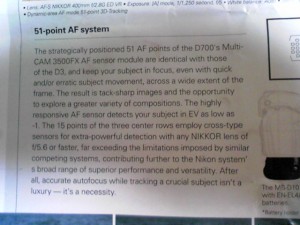 51-point AF system
The strategically positioned 51 AF points of the D700's Multi-CAM 3500FX AF sensor module are identical with those of the D3, and keep your subject in focus, even with quick and/or erratic subject movement, across a wide extent of the frame.  The result is tack-sharp images and the opportunity to explore a greater variety of compositions.  The highly responsive AF sensor detects your subject in EV as low as -1.  The 15 points of the three center rows employ cross-type sensors for extra-powerful detection with any NIKKOR lens of f/5.6 or faster, far exceeding the limitations imposed by similar competing systems, contributing futher to the Nikon system's broad range of superior performance and versatility.  After all, accurate autofocus while tracking a crucial subject isn't a luxury — it's a necessity.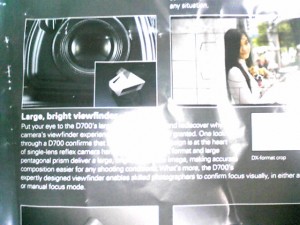 Large, bright viewfinder
Put your eye to the D700's large [unreadable] and rediscover why … camera's viewfinder experience … granted. One look through a D700 confirms that … design is at the heart of single-lens reflex camera han… format and large pentagonal prism deliver a large, … image, making accurate composition easier for any shooting [considered]. What's more, the D700's expertly designed viewfinder enables skilled photographers to confirm focus visually, in either a[utomatic] or manual focus mode.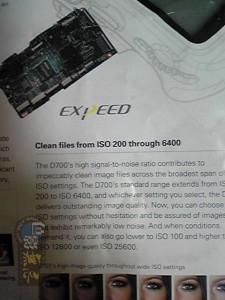 Clean files from ISO 200 through 6400
The D700's high signal-to-noise ratio contributes to impeccably clean image files across the broadest span of ISO settings. The D700's standard range extends from ISO 200 to ISO 6400, and whichever setting you select, the D700 delivers outstanding image quality. Now, you can choose ISO settings without hesitation and be assured of images that exhibit remarkably low noise. And when conditions demand it, you can also go lower to ISO 100 and higher to ISO 12800 or even ISO 25600.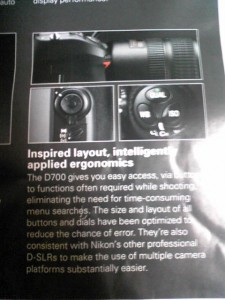 Inspired layout, intelligently applied ergonomics
The D700 gives you easy access, via buttons, to functions often required while shooting, eliminating the need for time-consuming menu searches. The size and layout of all buttons and dials have been optimized to reduce the chance of error. They're also consistent with Nikon's other professional D-SLRs to make the use of multiple camera platforms substantially easier.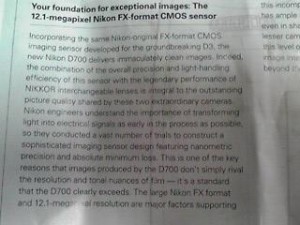 Your foundation for exceptional images: The 12.1-megapixel Nikon FX-format CMOS sensor
Incorporating the same Nikon-original FX-format CMOS imaging sensor developed for the groundbreaking D3, the new Nikon D700 delivers immaculately clean images. Indeed, the combination of the overall precision and light-handling efficiency of this sensor with the legendary performance of NIKKOR interchangeable lenses is integral to the outstanding picture quality shared by these two extraordinary cameras. Nikon engineers understand the importance of transforming light into electrical signals as early in the process as possible, so they conducted a vast number of trials to construct a sophisticated imaging sensor design featuring nanometric precision and absolute minimum loss. This is one of the key reasons that images produced by the D700 don't simply rival the resolution and tonal nuances of film — it's a standard that the D700 clearly exceeds. The large Nikon FX format and 12.1-megapixel resolution are major factors supporting …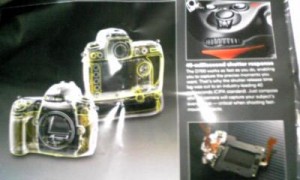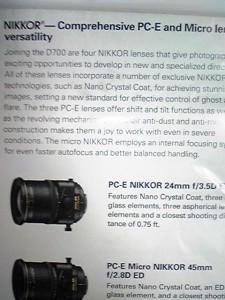 [ Original link ]