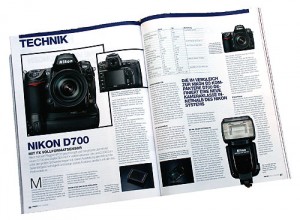 Specs:
FX sensor
Sensor cleaning
Built-in flash
95% Viewfinder coverage
5w/o, 8fps with battery grip
AF module from D3
no speaker/mic
one CF slot
virtual horizon
2599EUR
Availability: end of July.
SB-900:
DX/FX mode
improved user interface
500EUR
UPDATE: Here are some high-rez scans, thanks to "heavymeister" on DPReview. Click on the thumbnails to see larger versions.